The ICC Lab
The Interactions in Communication Contexts Lab (ICC) investigates how and why people interact with and make decisions in a variety of contexts, often mediated contexts. We are particularly interested in ways messages and media are designed to further particular types of communication goals and outcomes, from promoting healthier behaviors to creating more entertaining media to fostering social justice and fairness in de-personalized forms of communication.
Current research projects include investigations of food product labeling as it pertains to guiding food choice, camera POV in racially-charged police use of force videos and how they are shared in social media, and value-based framing of politically partisan issues such as abortion rights, environmental protections, and health behaviors.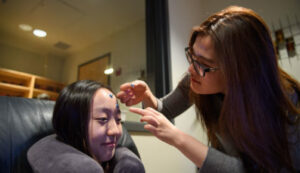 The ICC Lab is equipped with wireless psychophysiological measurement tools (Biopac), eye-tracking equipment (Tobii), and behavioral coding equipment and software (Noldus). We serve as both a research and training lab. Students from the undergraduate, master's and doctoral level can learn how to utilize these tools in both an academic and industry research context. The main metrics we use in the psychophysiological realm are peripheral metrics like heart rate, skin conductivity, and facial electromyography.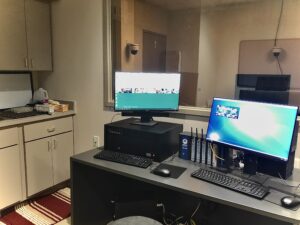 These metrics help us determine, in real-time, how much attention individuals may be paying to external stimuli and what kinds of emotions they may be experiencing while viewing these stimuli. In coalition with eye-tracking technology, we can track where an individual is looking in the room (using eye-tracking goggles that participants wear) or on-screen using infrared light reflectance from an emitter placed underneath the device of interest.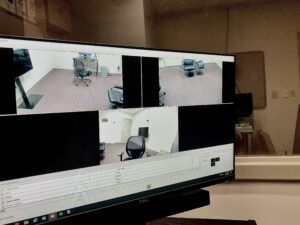 We also have the capability of recording any interactions individuals have with media or with others in the room using an array of cameras that can zoom and pan in real-time. We can use these recordings to look for pre-determined or emerging patterns in peoples' behaviors (e.g., emotional expressions, gestures, phrases, and other types of responses). 
Opportunities for students range from participating in a current research project and learning how to collect these and other types of data from participants to designing a study of your own and working to collect data under the supervision of Dr. Bailey. Dr. Bailey has supervised dissertations, theses, and undergraduate honors theses. Dr. Bailey often helps students present their work at national and international conferences and has helped students move on to publish their scholarly contributions.